Before starting any business marketing campaign, you must first understand the business module.
B2B marketing is entirely different from B2C marketing. In this blog, you will learn about B2B Marketing.
Five unique principles that will help you create an effective marketing strategy.  
What Is B2B Marketing?
The chain initiates with the need in the market. When customers demand a specific product, the market demand keeps increasing.
Then the companies and businesses order products. It's to fulfill customers' needs on a larger scale.  
To make things easier, take the example of hoodies that you buy.
They weren't in the shop by accident. There is an entire process behind it. The chain starts with cotton or any other fiber.
It is further woven to create a satisfying product sold in the markets.   
The diagram below describes the entire process of B2B Marketing in a simplified way. 
5 Primary Principles That Make B2B Marketing Unique
There are five main principles that make B2B Marketing special. To start your marketing campaign, you need to know these.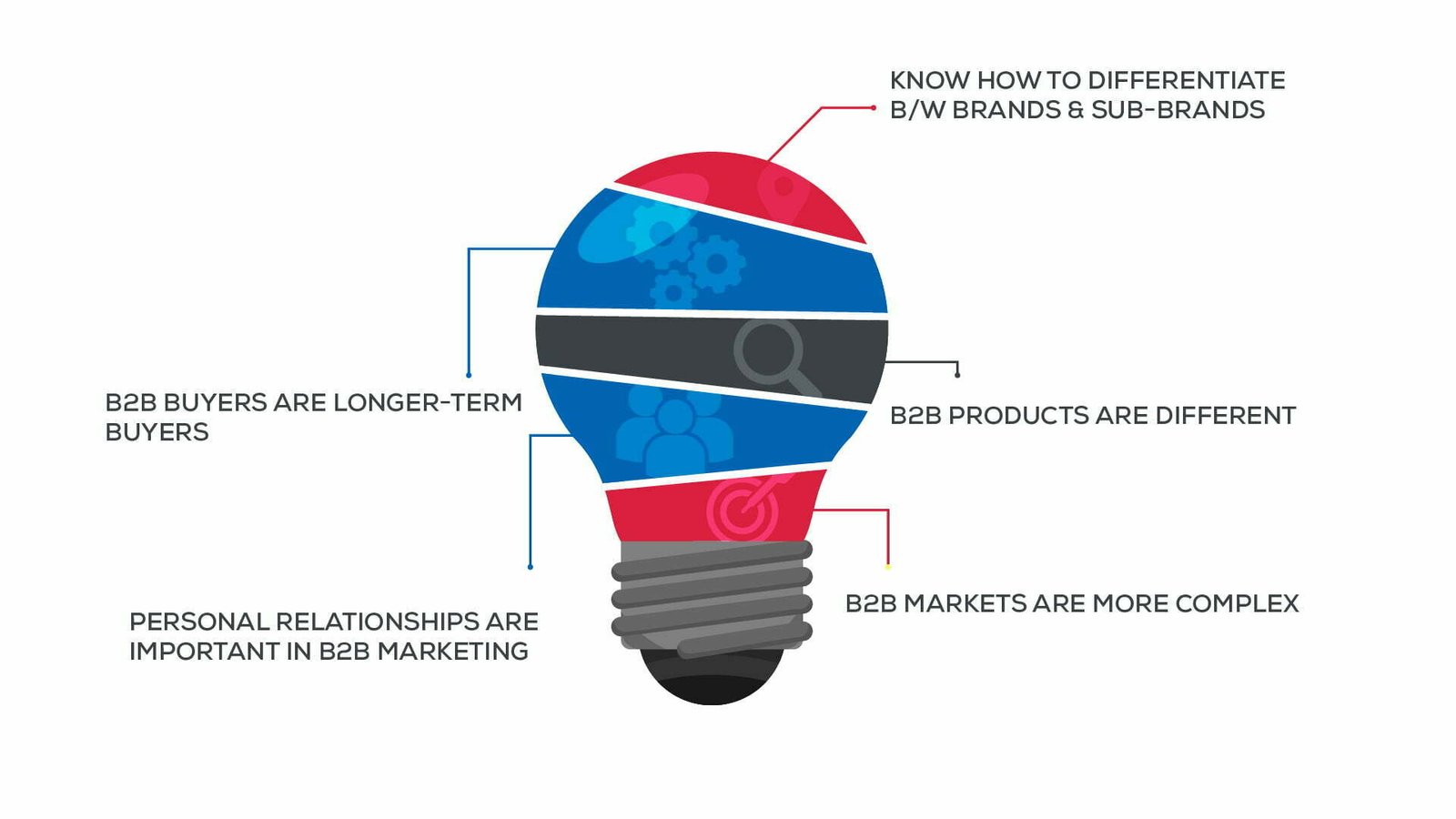 Know How to Differentiate B/W Brands & Sub-Brands
Building a strong brand in B2B Marketing is incredibly important. There are many products in the market, so you must stand out and make your products unique.  
In the past decade, the influence of brands in B2B marketing has been heavily increasing. Research conducted in 2019 tells us more about B2B marketing.
Consumers are most likely to buy from brands they trust. Around 56% of final B2B purchases depend on this factor. 
B2B Markets Are More Complex
The B2C marketing purchase process is different. One family member makes all types of decisions, whether complex or simple. These decisions can vary from buying new clothes or purchasing a new car.  
However, in B2B marketing, you need to be extra wise with your strategies. The decision-making unit in B2B includes many people. The decision is made after calculating risks, especially if the product is more critical. Laptops are prime examples of this because they directly affect the company's performance. 
Personal Relationships Are Important in B2B Marketing
It is a highly ignored feature of B2B Marketing. Building strong personal relationships with networking helps in the success of the company.
You can easily create loyal and long-term customers. No matter how small your customer base is, with constant efforts and consistency.  
It is often seen in countries newly introduced to branding and B2B marketing. They rely on local suppliers and wholesalers to fulfill the needs of the business. 
B2B Products Are Different
The Decision-making process of the B2B market is complex. The products of this market are also complex.
For B2C products, you don't need to become an industry expert. However, for B2B, it's important to be an expert in all the areas related to B2B marketing.  
In B2C, the criteria for these products can be simple. For example, a person purchases a car because of its luxurious look and shine. For stereo, the sound matters more than the outer appearance.  
B2B Buyers Are Longer-Term Buyers
In B2B, most of the customers are long-term. When businesses make a purchase, they usually require a backup service. That ensures that the product stays in the best condition. It can be a computer program, new machinery, or vehicle.  
The purchases are repeated to keep everything in top-notch quality. They need expertise, which is usually not demanded by B2C customers. 
Conclusion
B2B marketing has different practices and strategies. It can be perfected with some research and the right implementation. These principles are important in B2B marketing. You will learn many valuable things by incorporating these principles into B2B Marketing.  
Want to grow your business?  Outsource your marketing to Brander's Jack today.