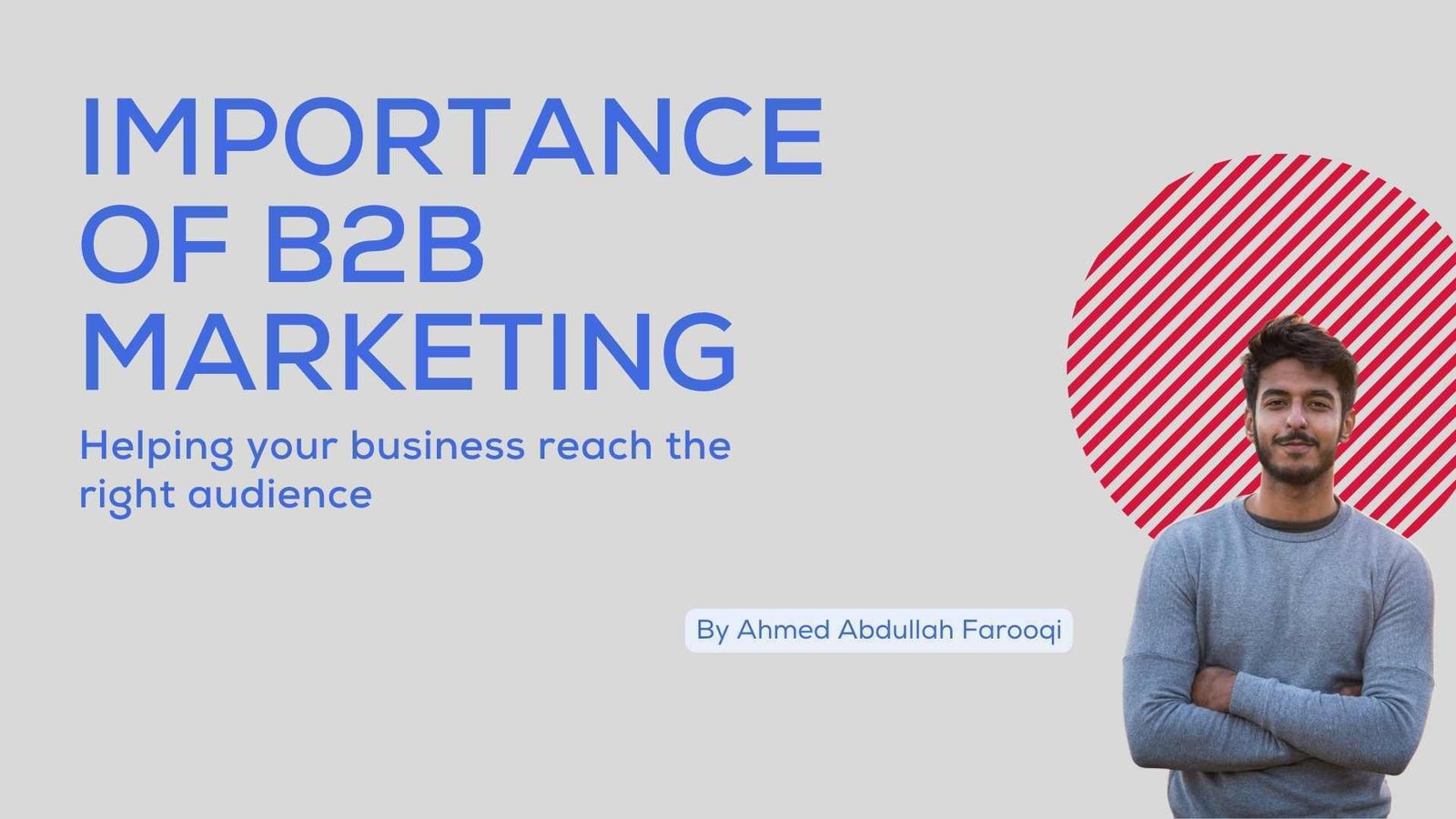 The importance of b2b marketing is evident in businesses looking to reach the right audience – whether it is a product or a service - b2b marketing is an essential stepping stone to creating a long-lasting brand. 
In B2C, chances of survival and growth are relatively high. However, in B2B marketing, being familiar with basic tactics and strategies is not enough. To make your name in the marketplace, you must be extraordinarily good at your job. If you lack strong qualities, you will be forgotten and will not survive in this competitive marketplace.  
Everything is online, and the credit goes to the internet. Your B2B business is already seen by plenty of people without you knowing. That is why your B2B marketing should be strong to emerge as a leader and stand out from your competitors.
What Makes B2B marketing different?
B2B businesses are professionals and experts. Your content, marketing, sales, social media, and every strategy should be customized to the business, ensuring success, and making your B2B marketing extra special and unique.
The Importance of b2b marketing  
There are various factors why B2B marking is important for businesses, small or large. Whether it is reaching the right business to stock your product for instance, or a service that solves a problem for a business, b2b marketing helps you reach the right audience,.
More Sales Cycle
For B2B businesses, sales and purchase is usually done after months and sometimes take even more time. Therefore, you should use different methods to compel them to buy your goods and services.
They make rational decisions based on the value your product or service will provide. Show clear solutions to your customers. Do not confuse them by selling infinite things at a time. Show them how you can provide more value to them than other market businesses.  
When these differences are subtle or complex, it is necessary to articulate them persuasively. Be intelligent and use effective communication strategies to minimize any doubts they might have.
B2B Products and services are different
B2B products are usually difficult to understand for everyone. That is why they are shown in a straightforward yet understandable manner. Since the number of buyers is less than B2C, you should avoid making mistakes that may repel your customers.
The product B2B marketing strategy should include these aspects. Make a strong impact on the right audience to ensure that they take your offer.
The Emotions Are Different In B2B Marketing
One common myth marketers believe is that you do not need to use emotions in your B2B marketing strategy. But they forget that your potential customers are human beings too.  
Therefore, you need to add a strong psychological and emotional factor that motivates them to act. It requires more research because there is a thin line between a business buying your product and completely ignoring it.
Wisely Choose Differential Pricing 
The pricing is different for every product. There is minimal standardization, so it is important to ensure uniformity. Numerous factors determine the price of a product.
That is why marketing managers, especially those involved in B2B marketing, should work directly with the sales department. That will ensure a balance in your product pricing.
There Are Less Research Data Points
In B2C marketing campaigns, most of the time, you have research data points and analytics. You can easily predict the success or failure of a product or service. But that is not the same in B2B marketing.
In B2B businesses, there are no research data points. Due to this, you cannot predict failure or success. There is a high-risk factor involved in B2B, and after extensive research, there is no surety that everything will work out in the end or not.
However, there are many modern tools through which you make this worrisome task easier.
Conclusion
B2B marketing is extremely difficult, but with the right tools, automaton and experienced marketers are making their campaigns successful.
Do you want to grow your business?
Outsource your B2B marketing to Brander's Jack today.